HFRC is a small firm with in-depth experience and huge resources. In addition to its full-time staff, HFRC maintains a network of associates from which it provides its clients with the manpower, knowledge and experience they need while keeping costs low.
HFRC's staff has worked in numerous industries, including:
Oil exploration and production
Refineries
Petrochemical and chemical plants
LNG liquefaction & vaporization plants
Petroleum pipeline stations & terminals
Distribution terminals (truck & rail transfer)
Petroleum pipeline stations & terminals
Atmospheric and pressurized storage facilities,including those with cavern storage
Laboratories
Power generating plants
Mining facilities (ore treating areas)
Fragrance manufacturing
Pharmaceutical manufacturing
Hazardous waste recovery & disposal facilities
Foundries and pipe mills
Liquids/hazmat warehousing
Waste water treatment plants
Various manufacturing plants such as transformer manufacturers, truck manufacturers, metal stamping plants, meat processing plants,insulating board manufacturers and printing plants.
Nursing homes and educational facilities
Hotels and Casinos
High Rise Buildings
Enclosed Malls
---
Steven W. Haines, PE, CFEI
President/Principal Engineer
Mr. Haines is a graduate of Penn State University and started his fire engineering career with Factory Mutual Engineering.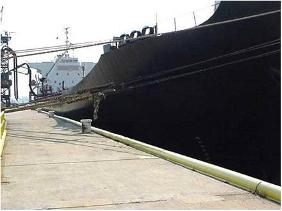 He has accumulated over 25 years of experience in the areas of fire fighting, fire protection engineering, process safety consulting, emergency response planning and fire and accident investigation. In addition to his time as a consultant, Mr. Haines served as the Sr. Fire Protection Engineer for Sunoco, Inc. for over seven years and has twenty years of experience in the municipal and industrial fire services, including three and a half years as a career fire chief. Mr. Haines is a Certified Fire & Explosion Investigator and is a NJ Licensed private investigator. Mr. Haines' current and past clients include: AMGEN, Atlantic LNG, BP Oil, Citgo Oil, Conoco-Phillips, Egyptian LNG, Giant Resource Recovery, HESS, Innovene, Kinder-Morgan, Marathon Petroleum, Motiva Enterprises, Phelps Dodge, Sunoco, Hovensa, Talisman Energy, Baku-Tbilisi-Ceyhan Pipeline and Finger Lakes Distilling. Mr. Haines has worked extensively with gas detection systems and equipment for over a decade and was a significant contributor to a 2009 gas detection guide published by the Center for Chemical Process Safety and the American Industrial Hygiene Association.


---
Anthony M. Ordile, P.E.
Principal Engineer
Mr. Ordile has 37 years of experience in the fields of fire protection engineering, process safety, loss control, and risk management. This experience includes work in the chemical, high-hazard and insurance industries with significant emphasis on facilities that store, use, and handle flammable and combustible liquids and hazardous materials. He is also well versed in the field of Process Safety Management, Hazard Study Methodology and is certified as a RC14001® and RCMS® Lead Auditor. In addition to his time in the consulting and insurance fields, Mr. Ordile served as a Senior Fire Protection Engineer in the Engineering Safety Group of ICI Americas, Inc. for nearly 5 years. Mr. Ordile serves as a principal member on the NFPA Technical Committees on Hazardous Chemicals (NFPA 400) and Flammable and Combustible Liquids, (NFPA 30). He also served as the NFPA 30 Technical Committee Chairman for the Committee on the Storage and Warehousing of Containers and Portable Tanks from 1996 to 2007.


---
John S. Horton, CFPS
Senior Consultant
Mr. Horton has over thirty five years of experience in building and fire code enforcement, emergency response planning and firefighting. He specializes in assisting clients in special hazard and high life risk occupancies to cost effectively manage the risks of their facilities and properly apply relevant construction and building codes. Prior to joining HFRC, Mr. Horton was a supervisor for the Division of Codes and Standards of the State of New Jersey, Department of Community Affairs. In this capacity he conducted numerous plan reviews and field inspections in a wide range of commercial and industrial settings including casinos/hotels, enclosed shopping malls, schools, high-rise buildings, warehouses and manufacturing facilities. He has also served as the program coordinator for the Associates in Applied Science, Fire Science Program at Ocean County College and previously worked as a municipal code enforcement and fire investigation official. In addition, Mr. Horton has thirty eight years of fire service experience in the municipal, federal and state forest fire service and is regularly involved with training, fire service deployments and fire preplanning.